Summer is around the corner!
Here's my complete summer 2023 tour schedule. Can't wait to see so many beautiful dancefloors, new countries and smiling faces .
Absolutely amazing to play my music for so many different people, feeling super grateful and I wanna thank everyone involved in making this happen
Starting of the summer tour in Germany this weekend! Ready to test some new tunes from my upcoming album. See you there!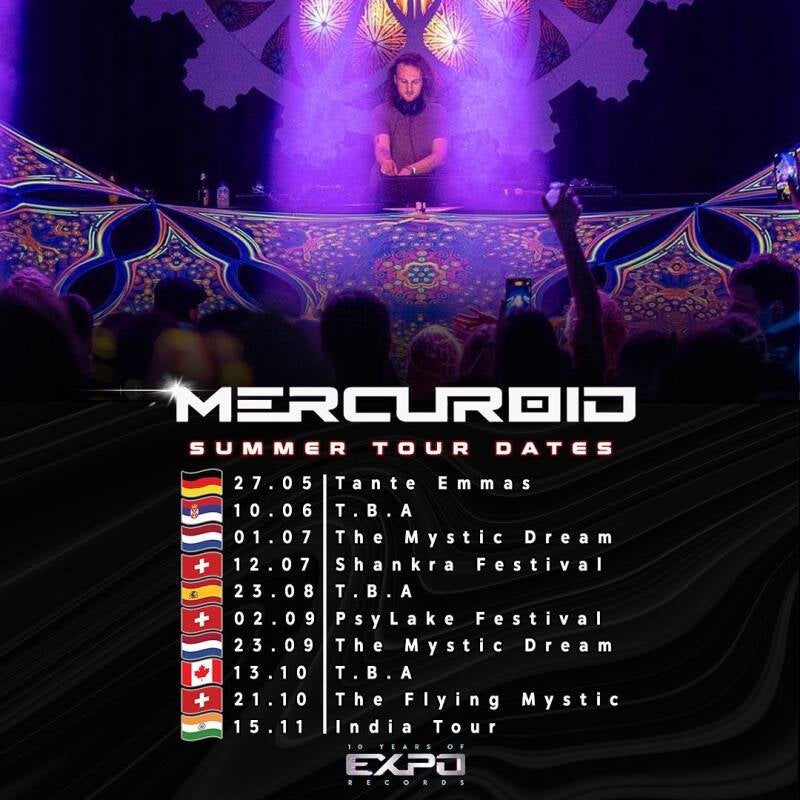 Mercuroid, also known as Kaymon Teunissen, is an electronic music producer based in The Netherlands. Mercuroid formed in early 2017, with a musical code that can be identified by its storytelling atmosphere, melodic breakdowns, high quality sound design and pounding beats. Mercuroid's music can be heard on dancefloors all around the globe and has moved countless feet with his unique musical formula.
| Date | Venue | Country |
| --- | --- | --- |
| 27.05.2023 | Tante Emmas | Germany |
| 10.06.2023 | T.B.A | Serbia |
| 01.07.2023 | The Mystic Dream | The Netherlands |
| 15.07.2023 | Shankra Festival | Switzerland |
| 15.07.2023 | Oogst Festival | The Netherlands |
| 11.08.2023 | Kit Kat Club Berlin | Germany |
| 23.08.2023 | T.B.A | Spain |
| 02.09.2023 | PsyLake Festival | Switzerland |
| 23.09.2023 | The Mystic Dream | The Netherlands |
| 13.10.2023 | T.B.A | Canada |
| 21.10.2023 | The Flying Mystic | Switzerland |
| 15.11.2023 - 30.11.2023 | India Tour | India |
| 02.12.2023 | The Mystic Dream | The Netherlands |
| 31.12.2023 | T.B.A | T.B.A |